Landau is Different
We know that what makes us different isn't what we offer our clients, but who. As a 100% employee-owned company, we are informed by a deep pride of ownership in everything we do. With 67% of employees owning direct shares in the company, we are more than a staff, we are employee owners. We are invested in our clients, our projects, our team, and ourselves. Landau's ownership model lends to the powerful dynamics of transparency and shared voice. In this way, we retain the right people because they feel valued and relevant. That's what makes Landau different.
Meet the Team
Eric Albright, PE, ME
Director, Air & Noise
As Director of the Air & Noise Technical Services Group, Eric is focused on the development and maintenance of a technically excellent and collaborative group of practitioners. He enjoys working with smart, capable people to solve interesting problems for clients and believes Landau's culture provides the best place for that to happen. Eric's goal is to listen to co-workers and clients to fully understand what they are thinking and proceed together to a final agreed-upon product or solution. He works with a team to assemble detailed information using defensible procedures to create a product while ensuring that the overarching goals of the project are achieved. Eric serves as the Vice Chair of the Puget Sound Chapter of the Pacific Northwest International Section of the Air & Waste Management Association (A&WMA).
Fun Fact:
The good: Eric's hobbies are cooking and eating (not necessarily in that order). The bad: Eric has had limited success adding "exercise" to his list of hobbies. Favorite quote: "I can't complain but sometimes I still do." – Joe Walsh
Kaila Anderson, PE
Environmental Engineer
Kaila uses her technical skills and prior industrial experience to ensure Landau clients maintain compliance with environmental permits and regulations enforced by overlapping jurisdictional agencies. Kaila loves working on projects in her community and especially appreciates collaborating with small-scale farmers and local governments to navigate complex permitting webs. She is organized, easy to work with, and has an Excel tracking spreadsheet for nearly everything! Kaila is Landau's go-to for solid waste facility compliance projects, including landfill closure design and environmental reporting. She also offers experience and expertise on water rights due diligence, portfolio management and transfers.
Fun Fact:
Kaila loves to garden and has a dream to start a small dahlia flower farm.
Kat Baker, EIT
Environmental Engineer-in-Training
Kat has worked in the air and noise field her entire career; she started by learning the ropes of air and noise modeling and has grown to managing projects. She thrives on solving complicated air and noise challenges faced by our clients both locally and internationally, in a variety of industries including but not limited to data centers, gravel pits, and lumber and plywood. She approaches every problem with unmatched enthusiasm and from her background in sports, she loves building and collaborating in teams. She prefers a phone call over email any day! Kat's area of expertise include air quality compliance permitting and noise modeling.
Fun Fact:
When Kat was growing up she wanted to be unique, so she learned how to play the French horn and bagpipes.
Sam Bartish, GIT
Environmental Geologist-in-Training
As a Geologist and a GIS Analyst, Sam uses his wide range of technical skills to assist in the success of multidisciplinary projects. His experience in field work ranges from environmental drilling, groundwater well installations, and groundwater sampling to remotely sensed data collection using high accuracy equipment. Sam manages environmental baseline assessment and ongoing groundwater monitoring projects. Sam also leads the Landau drone program and loves using technology to assist in how field data is collected. Currently, he is completing a graduate degree in applied geosciences at the University of Washington with a focus on coastal geomorphology. Sam aims to use his skills in geology, spatial data sciences, and geomorphology to help clients understand shoreline dynamics and meet future shoreline resiliency goals.
Fun Fact:
Sam once considered signing up for a marathon.
Allan Barton
GIS Analyst
Allan has been with Landau Associates since 2011 and handles all things GIS. Allan enjoys creating maps and web mapping applications that tell a story for clients in all of Landau's practice areas. Allan brings an easy-going attitude while having high standards for Landau's cartographic products. Allan has 20+ years of working with GIS and is an expert in Esri's ArcGIS Pro, ArcGIS Desktop Suite, and ArcGIS Online products. Allan has a professional working history working in the private and public sectors, including city and federal government.
Fun Fact:
Allan loves to travel and is an avid Seahawks fan.
Lilyann Bauder, PE
Environmental Engineer
Lilyann uses her technical skills and prior regulatory experience to help clients find a path forward for various permitting and compliance requirements. Lilyann likes to collaborate to ensure projects are able to comply with requirements across multiple applicable environmental regulatory programs. Lilyann is experienced in air permitting and compliance, including application development and regulatory review. Lilyann is also a member of the inland northwest chapter of the Air & Waste Management Association.
Fun Fact:
Lilyann loves to craft and make gifts for friends and family.
Lauren Behm, MPA
Senior Marketing Manager
Lauren Behm is the Senior Marketing Manager for Landau Associates. Lauren is passionate about applying her writing skills to communicate the amazing things Landau and our client partners do to foster healthy communities. Using creativity and laughter, Lauren makes marketing and communications fun for her peers. With a background in science and engineering and 18 years in the business, Lauren is able to bridge the gap between the technical details and the story behind a project. Lauren has been an active member of the APWA Washington Chapter since 2007 and is serving on the Executive Board as the 2023 Chapter President.
Fun Fact:
Lauren loves musicals and has seen 8 Broadway shows in New York City.
Weston Boardman, GIT
Environmental Geologist-in-Training
Weston is a licensed geologist in training and brings experience as an environmental contractor to the environmental remediation projects he works on with Landau. Weston loves working on contaminated site cleanups in the Inland Northwest that help protect the area's natural resources. He is personable and works through problems with an easy-going attitude. Weston's experience includes environmental site investigations, groundwater monitoring, soil and soil vapor, characterizing hazardous and non-hazardous waste, underground storage tank (UST) decommissioning, groundwater injections, and groundwater treatment system maintenance.
Fun Fact:
Weston loves to mountain bike and spend time outdoors with friends and family.
Sarunporn (Yara) Boonyarattaphan
Environmental Scientist
Yara supports a variety of projects related to air quality permitting and compliance. She leads complex air quality impact analyses and conducts health risk assessments for data centers, airports, and local government. Yara especially enjoys working on greenhouse gas (GHG) projects and learning about the cap and invest program. Yara appreciates the opportunity to collaborate with brilliant colleagues and clients, working together to solve complex problems. Yara is organized and easy to work with. She is ready to jump in to support her team, whether it involves working on projects with quick turnarounds or providing training and guidance to junior staff members. Yara's technical expertise includes regulatory review, compliance determinations, air dispersion modeling, python scripting emission inventory development, and GHG emission reporting and verifications. Yara is a certified GHG verifier with the California Air Resource Board.
Fun Fact:
Yara enjoys golfing and finds it to be a really challenging sport, but she loves a challenge!
Devan Brandt, LG
Environmental Geologist
Devan uses his technical skills to execute complex field projects for Landau clients in our Environmental Remediation group. With over 10 years of experience in the field he is able to share his extensive knowledge in training new staff members. He also finds time to manage our vehicle fleet and numerous pieces of equipment and supplies.
Mark Brunner
Principal, Air & Noise
Mark's primary role is within Landau's air permitting and compliance practice. His focus is on helping clients navigate air quality regulations and obtain approvals needed for construction of new or modified industrial, commercial, and institutional facilities. Mark also spends a significant amount of time helping clients navigate Washington's State Environmental Policy Act and the U.S. National Environmental Policy Act. Mark has spent his entire career in the Pacific Northwest developing good working relationships with regulators throughout the region. Mark prioritizes meeting client needs for any given project; whether it's balancing schedule and budget constraints, helping client's understand public perception and compliance risks, or maximizing a facility's operational flexibility while still complying with all applicable regulations, Mark zeros in on the client's objectives and looks to optimize the outcomes. Permitting and compliance strategies often involve some amount of risk, whether it be to schedule, operational flexibility, or project budget – Mark helps clients understand the risk factors in order to make the best risk management decisions for their facility. Whether it's a small company needing a permit on a tight budget with minimal risk or a large multinational firm navigating a potentially contentious permitting process, Mark has the breadth and depth of experience to support your project.
Fun Fact:
Mark enjoys swimming and camping in the summer. Mark is also a big Seattle Mariners fan. With the latest team rebuild he has high hopes they will be a contender in the near future. Go M's!
Shauna Burr
Environmental Scientist
Shauna uses her technical skills to ensure compliance with air quality and environmental noise regulations for clients in a wide range of industries. As a California native, Shauna has enjoyed getting to know her local community by working on projects across the Pacific Northwest and working with a company that prioritizes investing in its employees has given her the chance to grow as a consultant. Shauna adapts well to ever-changing project needs and is always happy to jump in to support her team, whether that be through working on tight deadlines, providing training for junior staff, or traveling for field work. Shauna uses her coding expertise and prior experience to streamline the process of creating air dispersion models, noise models, and performing data processing tasks, and she is an experienced GIS user, often supporting our graphics team with figure production.
Fun Fact:
Shauna has three very vocal and energetic cats who love to join her on video calls.
Carolyn Carlstrom
Environmental Scientist
Carolyn describes her role at Landau as, "a bit of everything." Carolyn's Landau career started doing CAD drafting. She continues to support civil design work but has transitioned into a project management and field staff coordination role. Carolyn finds purpose in her work when she can step back and think about the impact she has on the environment and communities around her. She loves working on environmental clean-up projects the average person doesn't even realize is down the street from them. Carolyn has embraced her role as a mentor to new staff. Her approach of fully explaining the reasoning for a decision in the field allows her team to build context for the engineering process that will help them in the future. Carolyn appreciates it when she sees the Landau field protocol click with newer staff. Her attention to detail and memory for site specific details help her guide field staff even when she is not onsite. Carolyn still likes being in the field herself, but only if it's raining!
Fun Fact:
Carolyn has a goal to climb all the volcanos in the Cascade Range in her lifetime. So far, she has summited Mt. Lassen, Mt. Adams, Mt. St Helens, Mt. Hood, and Mt. Rainier and plans to add more to the list this summer.
Tyler Cartwright, EIT
Geotechnical Engineer-in-Training
As a geotechnical engineer in training, Tyler enjoys the combination of working in the field and the office and appreciates that Landau provides an environment for learning by doing. Tyler is a great 1 on 1 collaborator. At Landau, he feels comfortable working through a task on his own and pausing to ask questions. Tyler provides technical analysis in pile capacity calculations, infiltration calculations, groundwater data reduction, ground improvement design, slope stability modeling, and more. He also assists with drilling, infiltration testing, construction observation, density testing, and more.
Fun Fact:
Tyler loves to do anything related to sports: basketball, volleyball, rock climbing, tennis, and everything in between.
Jesikah Cavanaugh, PE
Environmental Engineer
Jesikah uses her field and technical skills to provide Landau clients with support on environmental remediation and compliance projects. Jesikah appreciates that Landau allows her ownership of her professional development and uses that freedom to collaborate on varied and complex projects. Jesikah excels at being a team player and is stubbornly optimistic no matter the circumstances or challenges she faces. Prior to working with Landau, she worked for two years at a public wastewater utility where she gained an appreciation for working through day-to-day tasks while maintaining a focus on the end goal. Jesikah's diverse field experience makes her a resource on a variety of Landau client needs including operation and maintenance of groundwater treatment systems, small system design, complex sampling and investigation sites, and the implementation of subsurface injections for bioremediation.
Fun Fact:
Jesikah is a house plant enthusiast and can be found cheering for the OSU beavers any time of year. #gobeavs!
Christian Clark
Environmental Scientist
As a recent graduate of the WSU Civil Engineering program with prior experience in field work and AutoCAD programs, Christian describes himself as a Swiss army knife on the Landau team. Christian is willing to do whatever tasks are needed and helps Landau's Permitting & Engineering Design team with graphics, design, and project management. Christian is extremely passionate about his work and is most interested in environmental design. He enjoys making a difference in society by helping to protect the environment.
Fun Fact:
Christian is a native Spanish speaker and avid sports fan. His favorite sport is soccer and he hopes to get into coaching in the future.
Tina Cook
Project Coordinator
Tina provides technical editing, document formatting, file management, and project administration at Landau. Tina enjoys collaborating with scientists and engineers to convey meaning clearly, consistently, and succinctly in Landau reports. Tina is a team player who keeps things on track while allowing wiggle room for last-minute deliverables. Tina has an eye for detail and has learned an impressive number of tricks for working with Word and Acrobat.
Fun Fact:
If she's not playing canasta, you might find Tina weeding her garden.
Saul Cortez Jr., EIT
Geotechnical Engineer-in-Training
Saul utilizes technical skills from his prior graduate geotechnical engineering studies by performing tasks such as advanced analysis techniques and professional field tests. Landau offers Saul the opportunity to apply his educational knowledge practically on interesting projects. Saul is understanding, kind, patient, and an overall team player in Landau's geotechncial group. Saul completes in-depth analysis techniques which solve a wide array of complex geotechnical engineering issues such as seismic and foundation methods of mitigation.
Fun Fact:
Saul loves to cook and bake in his spare time. His best dessert is his traditional family recipe; fresas con crema (strawberries and cream).
Elyssa Dixon, PE
Environmental Engineer
Elyssa combines her previous experience as an environmental engineer in remediation, hydrology/hydraulics, and water resources to support remediation projects at Landau. She was drawn to Landau to engage with a supportive and collaborative culture and work on investigations and remedy design and implementation at a variety of sites. She has extensive leadership experience and uses her training as a mindfulness and meditation teacher in her approach working with others. Elyssa currently serves as the President of the ASCE Seattle Section and Past Chair of the national ASCE Committee on Younger Members.
Fun Fact:
Elyssa loves dogs and while she finally fulfilled her dream of bringing her own home a few years ago (a shepard/hound mix named Cedar), she is still thrilled to see a dog anywhere. She hopes to foster when she has more space.
Sarah Fees, LG
Environmental Geologist
Sarah is a geologist with 12 years of experience completing environmental investigation and cleanup projects. Sarah likes organizing information and solving problems at the complex sites Landau gets to work. She appreciates working for a company that cares so much about employee involvement and client satisfaction. Sarah uses her communication and organization skills to make technical information easier to understand and connects with a variety of stakeholders to complete projects. Sarah is extremely determined and won't give up until the problems are solved. Sarah combines skills in geology, hydrology, and chemistry to interpret soil, groundwater, and air contamination, evaluate potential cleanup options, and effectively cleanup contamination in the environment. Sarah is a member of Women in Environment.
Fun Fact:
Along with Sarah's regular human family, she is surrounded by animals including chickens, goats, and cats. She also fosters cats for her local humane society.
Jeff Fellows, PE, MBA
VP, Operations
Jeff is a Principal Civil/Environmental Engineer who supports the Operations team at Landau which is responsible for corporate strategy development, quality assurance planning, company-wide staff engagement, and support to Landau's skilled Project Managers. Jeff has worked at firms of various sizes over the years, but it is Landau's ownership culture, diverse group of clients, accomplished technical staff, and the 'we are in this together' attitude that makes it feel like the right place to be. Jeff enjoys working on diverse teams and getting exposed to the ever-developing depth of technical talent Landau offers with each new project opportunity. Consulting is a team sport and Jeff's skills as a 'cat herder' come in handy from time to time. Much of Jeff's technical work involves shoreline cleanup, which provides the chance to work with staff across all the technical services groups to integrate the environmental, permitting, civil, geotechnical, and restoration aspects of the projects.
Fun Fact:
Jeff loves to cook and garden and looks forward to having that farm property in the country sometime soon.
Nicole Foster
Environmental Scientist
In 2022, Nicole joined Landau Associates where she conducts wetland delineations and provides permitting, biological monitoring during construction, and mitigation execution on a variety of projects. As a biologist, Nicole loves working on projects in the beautiful Pacific Northwest and readily welcomes the complex regulatory puzzles that are often presented in environmental consulting. Nicole brings a positive and enthusiastic attitude to consulting. She achieves clients' goals within regulatory parameters and prides herself on being a shoreline permitting specialist. In 2018, Nicole earned a Certificate in Wetland Delineations and became a WSDOT Senior Biological Assessment Author.
Fun Fact:
Nicole got certified in scuba diving at the age of 10 and played NCAA Division I Lacrosse at Saint Francis University.
Dylan Frazer, LG
Environmental Geologist
Dylan is a Senior Associate in the environmental remediation group and supports clients to plan and implement site cleanups while keeping perspective along the way. Dylan enjoys working with good people – and at Landau, he has the privilege of working with both good clients and good colleagues. Dylan prioritizes clear and direct written communication but is always secretly looking for the opportunity to pick up the phone for a conversation. Dylan helps clients negotiate the regulatory process during characterization and cleanup of properties with contaminated soil, groundwater, and sediment. Dylan was Landau's employee of the year in 2022.
Fun Fact:
Dylan aspires to jump in the Puget Sound at least once per month… April through October.
Colette Gaona
Environmental Engineer
Colette started at Landau in 2008 shortly after graduating with her degree in Chemical Engineering from Oregon State University, and since that time has grown to fill many roles at Landau as she developed her career leveraging her passions of chemistry and leadership. Some of those roles currently include serving as the Portland Office Manager and as Corporate Secretary on Landau's Board of Directors, but one of her most rewarding roles is providing mentorship and career growth opportunities to the teams she works with. Colette is skilled in source tracing investigations, remedial investigations, and feasibility studies, and has provided litigation support to projects small and large. In 2018, Colette received the Oregon State Award for Outstanding Early Career Engineers, and she loves working with clients to unravel the interactions of chemistry and the environment. She has had extensive project experience working with PCB investigations and cleanups under the Toxic Substances Control Act and is eager to apply her knowledge of chemistry and engineering to address investigation and cleanup of emerging contaminants.
Fun Fact:
Colette has always aspired to leadership and growing up she wanted to be President of the United States… she was voted in high school "Most Likely To Become a Politician." She's grateful for some stellar chemistry professors that convinced her science and engineering would be a better career fit.
Katie Gauglitz, LG
Environmental Geologist
Katie's role at Landau has grown over her 8 years with the firm. She started as a full-time remediation field technician focused on soil and groundwater sampling, UST site assessments, and drilling investigations. Now, Katie manages the Tacoma office field team alongside her own projects. Katie feeds off of the can-do attitude of her colleagues to solve complex problems related to the remediation of soil and groundwater. Katie excels at "herding cats" whether it's multitasking on a dozen small projects or leading a small group to produce a cohesive document. Katie prepares reports documenting cleanup efforts and compliance for sites in the PNW. She regularly collaborates with clients and regulators to tie up loose ends. Katie is a Landau ESOP trustee and a passionate advocate for employee ownership.
Fun Fact:
Katie listens to every Mariner's baseball game on the radio, unless she's there in person! (Even if it's 18 innings long…)
Sean Gertz, PE
Geotechnical Engineer
Sean is a geotechnical engineer, working to support public and private clients on projects including roadway and utility improvements, airports, bridges, public recreation spaces, fish passage, port infrastructure, emergency landslide response, and industrial developments. Sean loves the variability of geotechnical engineering and enjoys helping clients understand or work through challenges they face and help them find the most appropriate solution considering cost, risk, and project specific conditions. Sean has an uplifting personality and uses his creative thinking and problem-solving mentality to work with project teams to develop the best project outcomes. Sean is experienced in design of shallow and deep foundations, retaining walls, pavements, stormwater infiltration, liquefaction and lateral spreading analysis, and landslide mitigation and repair. Sean is an ASCE Member, the 2015 Landau Associates Chili Cook Off Winner, and was nominated for Employee of the Year in 2022.
Fun Fact:
Sean is an avid home brewer and hobby woodworker. He can typically be found tinkering away in his garage. He enjoys the creativity homebrewing and woodworking allows in developing new recipes or designs, trying new things, and problem solving when things don't go as planned. Spoiler alert: things rarely go as planned, but that's half the fun!
Micah Gilman
Senior Marketing Coordinator
Micah is a designer, web developer and marketer with over 20 years of experience working with companies of all sizes in branding, digital and print marketing, and SEO. As a new member of the Landau team in 2023, he is excited to bring his expertise to such an important industry and join a tremendous group of professionals. Micah thrives on collaborating with experts to whittle away the excess and drill down to the core concepts that inspire new ways to drive business. His ability to write and design for print and digital media, coupled with his front-end programming skills, separates him from the pack in the marketing space.
Fun Fact:
I love sailing and boating in the Puget Sound. Pinball is my coin-op game of choice.
Katie Grabow
HR Specialist
Katie wears two hats at Landau, splitting her time as both a Human Resources Specialist involved in payroll and benefits and as a Project Coordinator involved in document review and other project-related administration. Landau typifies what Katie has most enjoyed in her career: an organization that avoids stringent job descriptions in favor of a more organic approach to staff development based on demonstrated competencies and allowing employees to find their highest and best use in supporting the goals of the organization. Katie enjoys supporting the teams she works with as Project Coordinator, as well as the staff she assists as part of her role in Human Resources. She values her time connecting with people while in the office as well as the opportunities for joining small groups for outings in the Tacoma Brewery Blocks neighborhood. Katie is well-organized and great at balancing a variety of tasks and responsibilities.
Fun Fact:
Katie parents were twins that married twins. In addition to her six siblings, she has six "double cousins," who are genetically closer to being siblings than cousins. "Reply all" takes on new meaning in family email strings.
Dan Gray, LG
Environmental Geologist
Dan works in Landau's Spokane office assisting both the Environmental Remediation and Permitting & Engineering Design groups with field work, project management, and reporting. Dan chose to join Landau in 2023 because he believed the company's values aligned near-perfectly with his own values, and he felt like he would be treated like more than just a number. Dan is responsive, easy to work with, and efficient, and prides himself on helping his internal and external clients get the best product while tightly adhering to project budgets. In his past roles, Dan has assisted his clients in the set-up and preparation of more than 200 Phase I ESAs, HBMS projects, and Phase II ESAs, and has broad experience in several varieties of field work.
Fun Fact:
Dan loves to cook and bake and has a dream to open up a pizzeria someday.
Jenny Green, EIT
Environmental Engineer-in-Training
Jenny's academic experience with remediation technologies makes her a key member of many project teams at Landau, for which she provides field sampling, design, implementation, technical writing, and project management support. While her primary reason for becoming an engineer was to help the environment, she has also developed a love for mentoring and recruiting new engineers by advising current university students, supporting her former professors, and engaging in outreach activities. Jenny is responsive, highly organized, and detail oriented. Her knowledge of chemistry and microbiology, process engineering-based education, and mechanical aptitude has made her one of Landau's foremost experts in bioremediation design and implementation.
Fun Fact:
Jenny loves jigsaw puzzles–she has over 30 of them, and her biggest one clocks in at 3,000 pieces!
Tim Hainley
Environmental Scientist
Tim joined Landau in 2023 after running his own general construction company. Tim brings previous experience with environmental and geotechnical consulting where his work included environmental assessments and due diligence investigations of soil, sediment, groundwater, air, soil vapor, and building materials, construction oversight, and closure report writing. Tim is excited to jump back into the industry and work with the Landau team on more remedial action projects and long-term investigations. Tim likes to ask a lot of questions to best understand the process and why we do it that way, as well as to confirm his understanding of the project is accurate.
Fun Fact:
Tim spends his weekends running a sawmill and playing logger.
Chip Halbert, PE
Chief Executive Officer
Throughout the course of his career, Chip has done much of what there is to do in the consulting world from cleaning labs and all-night groundwater sampling to litigation support in front of judicial bodies. Chip currently serves the firm as its CEO – working with the whole team to peek around the corner into the future and to plot out our path. Chip chose to join Landau Associates 25 years ago because the questions he was asked in his interviews gave him some insights into how Landau wanted to tap into him professionally – a very different feel from the other firms he interviewed with. 25 years later, Chip is still with Landau because of the culture of personal ownership. He was trusted to lean into leading things that were new to the firm, but with which he felt comfortable in undertaking. Chip brings immense passion to his work and is good at finding short cuts while mitigating their risks. Chip has enjoyed active memberships with the Air & Waste Management Association and NEBC. Chip currently serves on the board of directors of the Association of Washington Business.
Fun Fact:
The good: Chip loves learning languages and is pretty decent at it. The bad: His kids hate that his voice takes on weird accents in different parts of the world.
Tracy Hannuksela
VP, People & Support Services
Throughout Tracy's time at Landau, her role has grown from leading Human Resources to also working with corporate operations, administration, and shared services. Landau is filled with smart, dedicated, and talented people who make work fun and interesting. Tracy loves being part of a community of people who think like owners (because they are!) and who take pride in each other's personal and professional growth. Tracy is balanced and pragmatic, but also brings a sense of humor to situations. She is a strong communicator who enjoys collaborating with others to find solutions to interesting problems. She works hard to be available and accessible to her co-workers, embodying our Landau value of responsiveness. Tracy has extensive experience working with leadership teams and employees to align business strategies with people strategies. Tracy has expertise in all aspects of Human Resources, including compensation, performance management, professional development, employee relations, talent acquisition, organizational development, and benefits. Tracy also has strong operations, planning, and problem-solving skills. Tracy is a member of the Society for Human Resource Management (SHRM), the Consulting Engineering Human Resources group, and the Lake Washington Human Resource Association (LWHRA).
Fun Fact:
Tracy is a total foodie. Whether at home or traveling, she is always focused on finding the next great restaurant to try or the next recipe to tackle in the kitchen.
Kathryn Hartley
Environmental Scientist
Kathryn is an environmental professional with 21 years of experience in consulting with a focus on environmental due diligence and risk assessment. Kathryn began her career in the Chicago area and joined Landau in 2006 where she has developed a strong due diligence practice. After moving to Tennessee in 2015, Kathryn chose to continue her practice at Landau because she values the relationships she has built with her mentors and peers at the company and with her clients in the PNW. In her work, Kathryn is known for prompt and thoughtful responses to team members and clients. Kathryn enjoys working with clients to evaluate risk associated with real estate transactions or portfolio management and to develop strategies to mitigate risk. She has a passion for understanding the unique aspects of a client's business to bring solutions that will support the client's current needs, while minimizing risk of future liability.
Fun Fact:
Kathryn loves to bake elaborate cakes to celebrate family birthdays.
Benjamin Hecht
Environmental Scientist
Ben utilizes his technical and coordination skills on a variety of projects ranging from environmental compliance and bioremediation field support to field operations management on regional monitoring projects. He's passionate about making a positive impact on our environment and the people around him, and this motivates him to approach new tasks with a positive attitude. He enjoys listening to everyone's ideas before clearly and respectfully communicating with involved parties. Ben provides high quality field sampling and reporting to implement project goals.
Fun Fact:
Ben lived with subsistence farmers in rural Zambia for 2 years, where he embodied the idea that "no one ever drowned in sweat."
Kyle Heitkamp
Principal, Air & Noise
Over the past 17 years, Kyle has assisted clients with obtaining air quality permits for new projects, preforming air quality model evaluations, emission inventory development, and assisting on-going environmental compliance at a broad range of industrial facilities. Kyle enjoys distilling down complex air quality regulations to assist clients with their efforts to make products we all use in our daily lives. Kyle helps manage project risks through frequent communication with clients and effectively tracking project deliverables. Kyle is a go-to consultant for complex air quality permitting projects, where implementing lessons learned from several past major and minor new source review projects help clients meet their project goals. Kyle has enjoyed being an active member of the Air & Waste Management Association.
Fun Fact:
Kyle never misses a site visit, and he is always amazed at how each client product is manufactured.
Maddie Henry
Environmental Scientist
Maddie uses her technical skills to identify wetlands, water bodies, and protected species on project sites and ensure clients/projects adhere to local and federal regulations enforced by jurisdictional agencies through in-field delineations, desktop research, and reporting. Maddie is flexible and adaptable to ever-changing conditions, whether it be in the field or at her desk and enjoys collaborating with her coworkers and peers to solve problems. Maddie enjoys navigating the unique ecologic and jurisdictional conditions presented by each project and being involved in a variation of activities across a wide geographical and regulatory range. Maddie uses her knowledge of ecology to investigate and clearly communicate site conditions and regulatory considerations to clients in a timely manner.
Fun Fact:
Maddie enjoys putting together jigsaw puzzles (without the help of her cats) in her free time.
Trey Holland
Project Coordinator
Trey is a project coordinator and office assistant in the Olympia office. Trey provides technical editing on mostly geotechnical deliverables, but helps out with other Technical Service Groups when he can. He is always happy to learn more about different aspects of the work Landau does. Trey has a master's degree in Rhetoric and Composition from Washington State University and has been working with writing for over 8 years.
Fun Fact:
Trey likes to paint miniatures and play board games.
Stephanie Hyder, EIT
Geotechnical Engineer-In-Training
Stephanie brings to Landau a wealth of experience in structural engineering, building integration management, and modeling. Since she was a teenager, Stephanie has worked in some sort of 2D/3D modeling, from homes to large industrial facilities, and now soil-structure interaction. In the geotechnical field, she has experience modeling landslides, MSE walls, and pile foundations. Her favorite problems are ones that haven't been solved before, utilizing software engineering and literature review. During her graduate research, Stephanie custom worked in a soil mechanics lab performing cyclic testing and specializes in numerical modeling of soils in FLAC. Landau offers Stephanie the flexibility to work at home as well as experiencing field applications while continuing her graduate studies.
Fun Fact:
Stephanie entered motorsports at a young age racing karts and junior dragsters in her home state of North Carolina. She now spends her spare time at racetracks across the Pacific Northwest.
Clint Jacob, PE, LG
Director, Environmental Remediation
Clint has over 25 years of remediation engineering experience at Landau, informing an innovative and practical approach to our clients' remediation challenges. In his role as Director of Environmental Remediation, he helps to bring the right Landau subject matter experts together to develop solutions to our clients' contaminated site challenges. Clint considers himself an innovator and empiricist, learning something from each new remedial application and challenge. Clint is a regional expert in in situ remediation, especially in bioremediation of chlorinated solvents and petroleum. Clint and his team have designed and implemented custom approaches to bioremediation on more than 45 projects over the last 20 years. Landau's experienced injection teams have delivered more than 3 million gallons of remediation substrates to contaminated aquifers for cleanup in various challenging setting, ranging from remote sites to active manufacturing facilities. Clint is a frequent presenter at regional and international remediation conferences. Early on, Clint and his team won the 2011 American Council of Engineering Companies (ACEC) award for environmental innovation for design and implementation of aquifer bioremediation at a Portland, Oregon site.
Fun Fact:
Clint takes a practical approach to life and site cleanup and believes the saying that "there are no (perfect) solutions, only tradeoffs." He's happiest backpacking, canoeing, or sailing the inland waters of Washington and Canada with his wife and kids.
Alyssa Ballinger Johnson
Environmental Scientist
Alyssa has a well-rounded role doing Phase I Site assessments, SEPAs, NEPAs, noise and air compliance work, and assisting with data management for large remediation projects. She loves to get involved in different aspects of the environmental consulting world, learning frameworks to improve our environment. She has a lifelong curiosity which is nurtured by Landau's culture that provides fertile ground for developing cross discipline collaboration and solutions. Her demeanor combines calmness with a respect for getting things done on time and done well. Alyssa's general skill set in a wide array of projects means she can easily learn new tasks and hop into any project where support is needed. She  has also enjoyed navigating budding new opportunities in environmental justice and sustainability assessment.
Fun Fact:
Alyssa has a track record for being involved in community; She started a babysitting co-op in her old neighborhood and serves as treasurer for the PTA at her kids' school. She loved rowing on a crew team in high school and plans to get back to it when her kids are older.
Graham Johnson
Environmental Scientist
Graham works as a Staff Scientist in Landau's Environmental Remediation group. Graham professes to be a very passionate person who dives head-first into his work. He taught science in the classroom for 7 years and is enjoying the opportunity to implement the concepts he taught in a meaningful and practical way on Landau projects. Graham is not afraid to ask questions and encourages other to do the same to continue projects moving forward. Graham loves to dig into the details as an approach to problem solving. Graham's post-baccalaureate research focused on the legacy of out-sized boulders of the Yarlung-Siang River in the Eastern Himalaya, specifically looking at grain-size distribution and how that affects the longitudinal profile of the river. He was awarded Best Poster in the undergraduate student category at the Geological Society of America's 2023 Cordilleran Section Meeting.
Fun Fact:
Grahams' first career was as a traveling musician and he even has an album out on Spotify!
Danille Jorgensen
Environmental Data Manager
Danille manages Landau's Data Team, which is responsible for environmental data management for Landau projects. Landau's environmental data management process is thorough, ensuring data quality objectives are met by working with project managers throughout the life of a project. Danille is best at pulling threads and has never met a problem that couldn't be solved. She really enjoys connecting people – with a solution, another person, a different perspective, or a technical resource. Danille's favorite thing about her role is that she gets to collaborate with so many people across Landau, in many different disciplines. She brings a positive, upbeat attitude to her work and is known for her "It could be fun!" catch phrase. Danille is a data manager by way of chemistry. Her diverse project background and experience on Federal programs give her a breadth of understanding in analytical methodology and data quality. Danielle serves on Landau's Board of Directors as well as the boards for Women In Environment and Wild Hearts Idaho.
Fun Fact:
When she's not wrangling data, you can find Danille hiking or paddling with her beloved Labrador by her side, performing culinary experiments (latest obsession is ice cream), or catching some live music. Her favorite piece of wall art is an Edward Tufte signed print of Reebee Garofalo's Genealogy of Pop/Rock Music chart.
Dan Joseph, PE
Stormwater Engineer
Dan offers technical and project management support for engineering tasks including stormwater and wastewater permitting and treatment applications. Dan has years of work experience in working in a variety of settings including R&D laboratories, field research teams, manufacturing and logistics, construction, and engineering design, which makes him a practical and innovative water quality engineer. Dan holds a patent as an inventor of a stormwater treatment device and hopes to continue to develop new standards for how to more effectively manage wastewater in our society. Dan's experience includes hydrologic modeling, stormwater and wastewater treatment design, pump station and controls design, NPDES permitting, and municipal stormwater and wastewater design.
Fun Fact:
Dan loves spending time exploring the Pacific Northwest and getting to know the communities and pastimes of this diverse and beautiful place.
Joe Kalmar, PE
Principal, Stormwater Engineer
With his chemical engineering background and 30 years of environmental consulting practice (26 at Landau), Joe leads Landau's industrial stormwater practice. In this role, Joe has developed expertise on a wide range of water quality issues and engineering design for treatment to meet benchmarks and effluent limits. Joe combines a deep understanding of aquatic chemistry and water quality regulations/permits with a strong ability to communicate on those issues, such that clients appreciate Joe's ability to confidently guide them to the most cost-effective solution for their facility stormwater and wastewater issues. Regulators appreciate Joe's ability to present clear analysis and engineering reports, allowing them to quickly review and ultimately approve the project plans. Joe often provides litigation support to industrial clients facing permit compliance enforcement or third-party legal action under the Clean Water Act; through that work Joe has demonstrated ability to effectively communicate on complex issues to both clients and their attorneys and to effectively negotiate with Ecology, other regulators, and third-party groups. Joe has successfully assisted over 100 industrial facilities with NPDES permit compliance and particularly enjoys finding the untapped aspects of the facility's infrastructure (e.g., vaults, ditches, trenches) and using non-proprietary filtration media to design cost-effective treatment systems. Joe has been active with NEBC and has presented or moderated at each of their Managing Stormwater conferences since 2008. Associations that Joe has been active with include marine industry groups such as NMTA and PSSA. Joe was the project manager and lead engineer for the stormwater treatment design and implementation project for North Boeing Field that received the Engineering Excellence Best in State Gold Award from ACEC in the category of Originality and Innovation.
Fun Fact:
Joe played competitive badminton through high school and college and is one of the founding investors in a badminton club with three facilities in Washington State.
Sydney Katzen, GIT
Environmental Geologist-in-Training
Sydney works with Landau project managers to collect field data that helps determine remedial progress. Sydney feels she has a responsibility to offset some of the environmental impact that comes with the modern human existence and enjoys the working alongside experts at Landau who are driven by this need to contribute to something much larger than themselves. What sets her apart is her focus on doing what's best for the greater whole, her inquisitiveness, and her ability to understand multiple perspectives. Sydney brings a playful spirit to the workplace, she believes that the "how" and "why" are just as important as the answers themselves, and she facilitates an environment where everyone feels included by seeking input from all those involved. Sydney's diverse background has allowed her to find joy in hard work and develop the skills necessary for water sampling, air monitoring, bio-injections, soil testing, drilling, hazardous materials surveying, and construction oversight. She enjoys brainstorming ways to improve efficiency while prioritizing quality.
Justin Kay
Environmental Scientist
Justin Kay specializes in wetland and stream ecology, using his experience to help clients with critical area and habitat assessments, restoration/mitigation plans, as well as environmental permitting compliance at all levels of government. With a lifelong passion for plants, Justin's career has woven through agriculture, apiculture, riparian and wetland restoration, noxious weed control, and native plant propagation. Always excited to start a new challenge, Justin is easy to work with and organized. Years of experience have given Justin a keen eye for potential obstacles on any given project. Justin excels at creating and managing restoration sites from planning to implementation to the monitoring and maintenance phase.
Chris Kimmel, LHG
Environmental Geologist, Corporate Health & Safety Manager
Chris has been an active member of the Landau team for over 28 years, working on remediation cleanup projects while training new employees on field techniques and managing the corporate health and safety program. Chris loves that her work on remediation projects throughout the Northwest is helping to create an environmentally cleaner, safer, and more vibrant place to live. Chris enjoys working closely with clients and agencies to develop solutions to move a project through the various phases toward cleanup. Chris enjoys mentoring staff and watching that "Ah Ha" moment when the training pays off and the person is able to move forward with a new set of technical skills. Chris has worked on a wide range of environmental projects ranging from underground storage tank removals, large scale remediation investigations with complex site conditions, treatment system design and installation, and managing Superfund sites. Chris is involved in the Northwest Geologic Society and the current Vice-President for the Puget Sound Chapter of Women In Environmental following several years as the mentor chair for the organization. Ask her about either organization.
Fun Fact:
Chris grew up in a small town in Oregon where her grade school class had only 5 other students.
Devan King
Environmental Technician
Devan is part of Landau's Permitting & Engineering Design team and specializes in stormwater, hazardous building materials, landfill compliance and remediation work involving groundwater monitoring. Her favorite part of what she does at Landau is supporting clients from the field. She enjoys the diversity of projects she is a part of and likes being able to play an active role in an effort to mitigate environmental impacts. She really enjoys connecting and being part of a team and is always open to gaining new skills from her peers. She is adaptive to challenges, even the ones involving confined space entry or the occasional fieldwork that requires a headlamp. Devan performs standard operating procedures with an attention to detail that allows her to effectively perform routine inspections, collect and record data, followed by the preparation of reports and documentation of lab results.
Fun Fact:
Devan's favorite pastimes are rock climbing and foraging. She also enjoys getting creative with soap making, pottery, and a lifelong attempt to perfect her sourdough loaf.
Annie Klinke
Environmental Scientist
Annie has a degree in Chemical Engineering from the University of Michigan, and ten years of experience working in the air permitting and compliance practice area. Annie joined Landau in 2022, and appreciates the brilliant people she gets to work with every day. Annie loves to simplify her clients' complicated permitting questions and use her technical expertise to make their lives easier. Annie has worked for a wide variety of industrial clients, providing air dispersion modeling, emission inventory calculations, permit application, and regulatory reporting expertise.
Fun Fact:
Annie loves home bartending, and inventing new cocktails.
Shane Kostka, LG
Environmental Geologist
Shane is a licensed professional geologist with more than 9 years of experience managing and implementing environmental remediation projects. Shane takes the time to understand his clients' goals and enjoys providing regulatory support and analyzing, planning, implementing, and evaluating solutions that meet his clients' goals. Shane appreciates the high level of performance and values the input of the people he collaborates with at Landau. Shane focuses on client satisfaction and is the primary contact for multiple clients in Eastern Washington and beyond and takes the lead as the technical and regulatory resource for multiple projects in Washington and Idaho.
Fun Fact:
Shane enjoys reading non-fiction, boating, and building rock walls and walkways.
Laura Lafferty
Manager, Project Coordinators
Laura manages the team of Project Coordinators at Landau who lead the administrative and technical editing side of our project work. Laura loves problem solving and getting the job done well the first time, while working efficiently and effectively to deliver the best product possible for our clients. Laura is a communicative, proactive team member with an eye for detail and she is skilled at multi-tasking and prioritizing project needs. Laura has a bachelor's degree in mass communications and has a deep love for grammar and document formatting. She also loves diving headfirst into troubleshooting any issue that may need to be solved to keep projects on track.
Fun Fact:
Laura has a love for all things related to pop culture, and she and her husband met while playing bar trivia on separate competing teams. (For the record, Laura's team had more wins.)
Benjamin Lee, PE, CWRE
Water Resources Engineer
Ben is the technical lead on many of Landau's Water Resources projects. He enjoys helping a wide range of clients – from farmers to municipalities and from developers to industry – navigate the often complex and challenging technical and regulatory world to accomplish projects that better our communities. Ben is passionate about mentoring junior staff and helping them develop professionally into their own selected career paths. Ben's areas of expertise include water rights applications and portfolio management, groundwater supply engineering, numerical groundwater modeling, and regional water resources planning. Ben is a member of the National Ground Water Association and the American Water Resources Association-Washington Section.
Fun Fact:
Ben is a long-distance wilderness trail runner. Runs in recent years include traversing Olympic (42 mi) and Zion (42 mi) National Parks and the Pacific Crest Trail from Snoqualmie Pass to Stevens Pass (76 mi). He loves the connection to wilderness and wildness from those trips.
Kim Marcus, LEG, LHG, LG
Senior Consultant
Kim's focus at Landau is to support staff and connect them to clients in the areas of remediation; environmental health and safety; due diligence; and geotechnical services. Decades of working with clients helps him understand their needs and enables him to make the right connections with staff for project to be successful. Formulating these connections is the reason he continues to work. Kim enjoys solving problems and challenges in ways that create opportunities for clients. Kim says that Landau's ethos closely aligns with his, making it easy to be part of the team. His approach to communicate is to listen while thinking about what might be important to convey in a conversation. Kim has been a member of many organizations, including the Air and Waste Management Association, PNWIS, the Portland International School, the Portland French-American School, and the Portland International High School.
Fun Fact:
Kim enjoys building structures like garden sheds, Bocce ball courts, and decks, as well as tree trimming.
Amy Maule
Environmental Scientist
Amy manages a variety of projects, focusing on air quality and noise analysis. While many of her projects involve large industrial facilities, she especially enjoys assisting affordable housing non-profits with environmental compliance. Amy thrives in Landau's fast-paced and varied environment and is always ready to tackle a new challenge. From long-time clients managing high-tech industrial facilities, to new clients working at small non-profits, Amy believes that everyone deserves to work with someone who will respond quickly and completely to their requests. Amy has 25 plus years of experience working in the fields of environmental permitting, law, and government records, and her most valuable skill is connecting people with the information they need to keep their projects moving forward.
Fun Fact:
In her off-hours, Amy loves to build and fix things, and is currently renovating an adobe house.
John McCorkle, CEP
Principal, Environmental Remediation
John specializes in providing expert-level advice regarding contaminated land management to his clients, which range from private individuals and corporations to state and local governments. John has admired Landau Associates since he first became an environmental consultant, watching Hank Landau serve on the state science advisory board to use good science drive the regulations that guide the way we do business. John was delighted to join the firm decades later, and coincidentally also participates on an advisory group providing input on the state's ongoing revisions to the cleanup regulations! John takes pride in his communication skills – one client joked that they'd save John's e-mails and read them in the morning with breakfast as pleasure reading – and if he's not able to solve a client's problem, he's always looking to connect them with someone who can, be it an attorney or another skilled Landau team member. John has a passion for evaluating complex environmental problems with multiple stakeholders and finding the simplest, fit-for-purpose solution (often requiring a color-coded excel spreadsheet) and seeing the project through to completion. In addition to serving on the MTCA Stakeholder and Tribal Advisory Group, John is active in the ASTM, NEBC, and NAIOP.
Fun Fact:
John enjoys playing with his food – particularly mixing different kinds of spirits and infusions together to make intensely-flavored cocktails, some very good, and some very, very bad.
Dan McCormack, LG
Environmental Geologist
Dan uses his decades of experience in the environmental remediation field to help Landau continue to excel at field work, especially for large industrial clients. After retiring as remediation project manager at a large industrial client who relied on Landau to provide consistently high-quality environmental support, Dan wanted to rejoin the Landau team and help provide high quality services to other clients. Dan is a practical problem solver who does not get flustered, looks for pragmatic ways to get things done and is effective as a team leader or member. Dan has 30+ years of experience in remediation project management and is especially good at managing field activities.
Fun Fact:
Dan is an avid fisherman and boat builder and is currently building his 19th boat.
Ian McMullen
Environmental Scientist
Ian's role at Landau is on the Environmental Remediation team doing field work in the rain, snow, hail, wind, heat, cold, etc. HE LOVES THOSE ELEMENTS! He does it for himself, and for the the current and future humans of this awe-inspiring planet. He wants this place cleaned up and you should too. He believes that working with him is an enjoyable and positive experience. He's good at not taking things personally and at not letting things stress or frustrate him when they go wrong out in the field. He hasn't had the pleasure of working directly with coworkers over the last 5 years and has really been loving that camaraderie since joining Landau. He'd rather call someone on the phone and talk if they have time. He's working on his technical skills, being new to this type of work, so he would say adaptability is what he does best.
Fun Fact:
Favorite Quote: "I believe in God, only I spell it Nature." – Frank Lloyd Wright
Chad McMullen, PE
Geotechnical Engineer
Chad manages projects for Landau's Geotechnical Engineering group, with a special interest in complex or difficult-to-access fieldwork-intensive exploration programs. He likes that Landau has an excellent group of practitioners who genuinely enjoy bringing their various skill-sets together to collaborate on a wide array of projects for a diverse set of clients. This never gets old! He enjoys working with clients and subcontractors to identify practical ways to characterize a site, develop alternatives and contingencies, and keep an exploration project on-schedule and on-budget. Chad brings a broad range of geotechnical laboratory testing and field experience over his nearly 20 year career, from site exploration and characterization to observation of construction works to investigation and documentation of landslides, earthwork failures, and frost heave phenomena. Chad is also a long-time member of ASCE.
Fun Fact:
Though he doesn't enjoy danger or abject suffering nearly so much anymore, in the 1990s and early 2000s Chad climbed El Capitan (in Yosemite National Park) five times, climbed all over Colorado and the desert Southwest, and put up several first- and second-ascents of climbing routes on remote Alaskan and Canadian mountains. Occasionally this experience becomes a matter of professional relevance – descending a rope to map a steep hillside or rock face – but for the most part, gardening is more his style nowadays.
Nicole Mehr, LG
Water Resources Geologist
Nicole is a driven and passionate hydrogeologist who specializes in groundwater resource hydrology and enjoys working on hydrogeologic site assessment and water supply development projects. It always fascinated her that groundwater was out of sight and out of mind for most people. Nicole wanted to learn how to manage, protect, and utilize this complicated subsurface resource. She has a passion for solving client's groundwater problems, is organized, and loves presenting and communicating to a broad audience. She has experience in aquifer and well test analyses (including wellfield optimization and maximum sustainable well yield predictions), groundwater modeling, wellhead protection, and water rights.
Fun Fact:
When Nicole is not working on groundwater related projects, she is watching re-runs of The Office, playing with her hound dog named Bagel, or exploring new areas in the beautiful Pacific Northwest.
Sean Monson
Environmental Data Specialist
Sean uses his database skills and prior experience to organize data, communicate with laboratories during sampling events, and participate in quality control at Landau. Sean's background has been in environmental sciences and geography, and his entire career has been working and volunteering for organizations that value environmental stewardship. Sean enjoys being part of the Landau team and loves to feel that he can help out however he can. Sean has enjoyed learning all about databases working at Landau and continues to develop his skills with help from his associates. Sean grew up in Wisconsin and moved to Oregon in 2007.
Fun Fact:
Sean has two daughters and one son, and enjoys hiking, running, and traveling with his wife.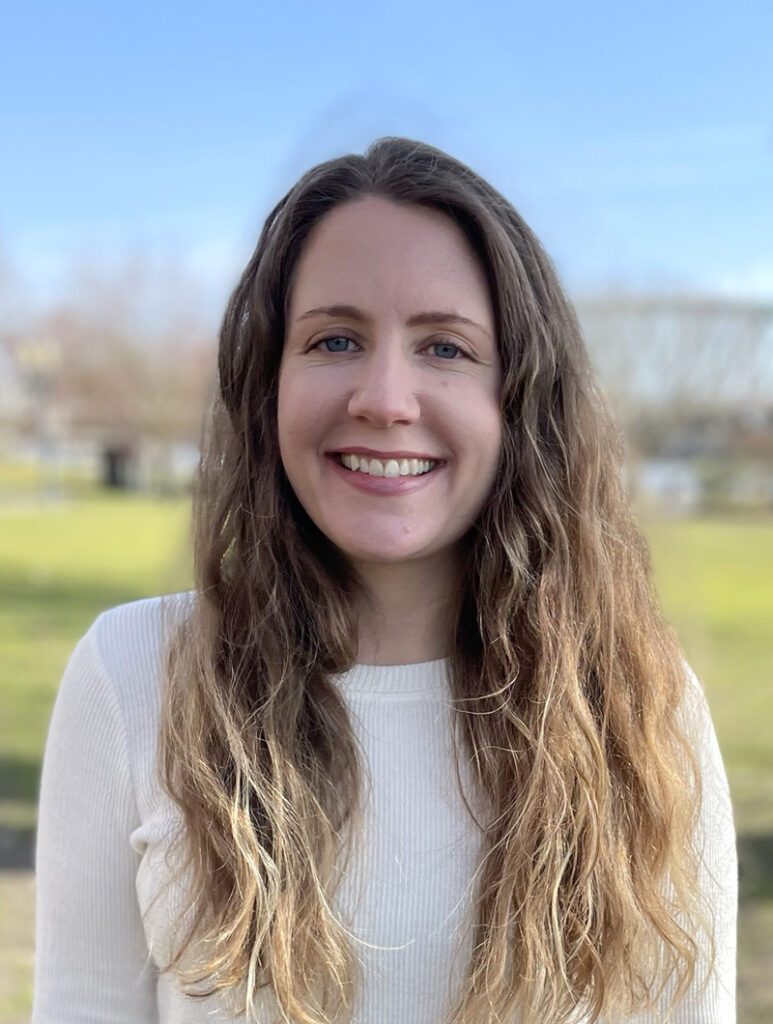 Sierra Mott
Environmental Scientist
Sierra is an environmental remediation and due diligence project manager, serving all types of clients. Sierra has been at Landau for the entirety of her career and can't imagine a better place to work. She is organized and efficient; she's happiest working as part of a large team with clients and other Landau practitioners. Detail oriented and an effective leader, Sierra excels at project implementation – she'll get it done, on time and on budget. Clients and co-workers look to Sierra to solve complex problems and minimize risk.
Fun Fact:
Anticipate ancient Roman archaeology at your site? Sierra is your gal! She is passionate about European archaeology and "will travel" for digging opportunities.
Amy Power, PE
Geotechnical Engineer
Amy is a geotechnical engineer with a strong background in geotechnical investigations, landslide mitigation, wall design, plan set development, and special inspections for soil and concrete. Amy loves being part of the entire project process, from the first site walk with the client, through investigation, analysis, and design, and construction completion. Amy has a wealth of industry and non-industry work experience, which allows her to understand project needs from all sides and effectively collaborate with all project players using both technical and non-technical communication. Amy has experience with a number of landslide mitigation design projects, many of which involve challenging construction access, environmental concerns, or other complicated design constraints.
Fun Fact:
Amy is currently looking to get back into regular amateur jam band sessions, with long-term aspirations of being a drummer in an all-female punk/ska/80's cover band.
Kalpana Prasad, GIT
Environmental Geologist-in-Training
Kalpana applies her educational background in PNW geology and former lab experience to the many roles of an environmental geologist at Landau. From borehole logging to creating geologic cross sections, Kalpana loves to problem solve and working in Landau's supportive environment has allowed her to expand her skillset. She now has experience conducting field work, writing reports, and task managing for groundwater, surface water, stormwater, and soil sampling events. Kalpana thinks the best part of her job is getting to collaborate with the other brilliant members of the Landau team. She has gained unique experience sampling for PFAS in soil and ground/ surface water and enjoys the complexity of these projects, particularly the strict sampling requirements. She is a member of Women in the Environment (WIE) and an Alumni of the University of Washington MESSAGe program.
Fun Fact:
Kalpana loves pottery and has her own wheel! She also practiced Indian classical dance for over 20 years.
Daniel Purcell, GIT
Environmental Geologist-in-Training
Steven Quarterman
Ecologist
Steven provides permitting/compliance services related to local, state, and federal regulations for a variety of public, private, and municipal projects. Steven enjoys working as part of an interdisciplinary team to collaborate on solutions, educate team partners, and engage with agency staff. Steven approaches each project with optimism and recognition of stakeholder perspectives. He is well-versed in environmental regulations and the acquisition of environmental permits and approvals, including shoreline permits, critical areas (wetlands/streams) permitting, Biological Assessments (Endangered Species Act compliance), and NEPA/SEPA compliance.
Fun Fact:
Steven started his career on the east coast and once supported a wetland delineation for a project that crossed the entire width of the State of Maryland – granted it was a relatively narrow 11-mile stretch of western Maryland between West Virginia and Pennsylvania.
Ken Reid, LEG
Environmental Geologist
Ken is an expert field geologist and is relied upon by his colleagues to interpret borehole logs and prepare cross sections of sites where the geology is especially complex or the interpretation is critical. Ken combines a high degree of knowledge and experience to efficiently manage complex field investigations. Ken's many, many days wandering the remote and out of the way places of Pacific Northwest with his gregarious and somewhat eccentric grandfather has instilled in him the capacity to listen deeply to what other have to say and to effortlessly strike-up conversations with anyone. This skill is crucial to being a good consultant, but one that Ken's children find simultaneously embarrassing and immensely useful when on vacation and you need local knowledge on the best places to go. Ken manages field operations and provides critical field safety training for Landau employees.
Fun Fact:
Favorite Quote: "There is only one think I hate more that lying: skim milk, which is water that is lying about being milk." Ron Swanson
Stephanie Renando
Environmental Scientist
Stephanie is a passionate project manager who puts her organizational and technical skills to work every day for her clients. She believes in leaving behind a legacy that is better than how she found it and Landau is a place where she can invest her career energy to make that happen alongside like-minded individuals. Stephanie is committed to producing high quality work and supports project teams by providing thorough and clear direction while allowing other team members to shine. She is highly skilled at planning, budgeting, and implementing environmental investigations and remedial cleanup actions that require coordination with clients, regulatory agencies, tenants, and subcontractors. Stephanie has been the administrative coordinator for an internal Landau's Emerging Professionals Group for the last two years. She has coordinated speakers and networking events for the peer managed group, and has since 'emerged' from the group but remains an advisor to the next cohort.
Fun Fact:
Stephanie loves to sing and utilizes her two and a half octave vocal range as a backup vocalist on a local church worship team. She is currently working on her goal to be a lead vocalist by attending weekly rehearsals and singing in the car, and the shower, and pretty much anywhere she gets the chance.
Kurt Richman
Environmental Scientist
Kurt applies his background in computer programming and digital arts to deliver air quality and environmental noise studies for a wide range of clients. Kurt enjoys developing compelling reports and graphics to effectively communicate findings and insights discovered through in-depth data analysis. Kurt's patience, positive attitude, and desire to collaborate with others is rooted in his belief that every perspective offers a unique understanding that can help identify and overcome challenges. Whether running complex air quality and environmental noise models on a single computer or across thousands of virtual nodes in the cloud, Kurt excels at putting computers to work.
Fun Fact:
When not working on an environmental study or designing new tools to automate workflows, Kurt enjoys hiking, gardening, and sculpting new objects to be printed on his 3D printers.
Rhonda Rock
Accounting Specialist
Rhonda uses her accounting knowledge to prepare outgoing invoices, help in the month-end closing process, and oversee local tax and licensing compliance. She enjoys both the team environment as well as the autonomy allowed by working with a great accounting group. Rhonda approaches her work with a positive attitude and enjoys collaborating with all service groups within Landau.
Fun Fact:
When not working, Rhonda enjoys the outdoors and a wide range of handy hobbies. If you're in the office in December, you might be lucky enough to snag some goodies from Rhonda's incredible holiday cookie spread!
Piper Roelen, PE, CHMM
Principal, Environmental Remediation
With his many years of experience and regulatory expertise, Piper leads many soil and groundwater remediation projects at large and complex legacy industrial sites in Washington. He also provides his clients with top-tier strategic and litigation support. After working for 5 years each with two large international environmental consulting firms, Piper is grateful for his 15 years (and counting) of involvement with our employee-owned small-business where the passion, expertise, quality, and employee-focus of his colleagues results in our clients choosing Landau time and again over many of the biggest firms in the world. Piper enjoys developing great interpersonal relationships with his clients, showing them his dedication to their needs, and creating a feeling that their project is the only project he ever works on (ssshhh, don't tell them that it's not). Piper has seen it all during his career, investigating and cleaning up everything from gas stations to ski areas, airports to milk plants, military bases to soup canning plants, rail yards to ranches, plywood mills to shooting ranges, meat packing plants to maritime ports, mines to big box stores, aerospace manufacturing to oil & gas fields, manufactured gas plants to landfills, and dry cleaners to pizza restaurants. This breadth of experience allows Piper to provide unique project perspective and insight while supporting his clients. Piper served as president and on the board of the Pacific Northwest Chapter of the Alliance of Hazardous Materials Professionals for several years. He can also often be found giving presentations to his peers at local or national remediation conferences.
Fun Fact:
Piper and his wife have been coaching high school and youth club volleyball together for more than 25 years. He also has a passion for traveling "off the beaten path" around the world where he can really immerse himself in the local culture.
David Rupert, GIT
Geotechnical Technician
Dave handles the index testing laboratory for Landau's Geotechnical Engineering team and helps out with field work on occasion. The work is often very interesting, and he is able to get out in nature. Dave thinks that helping out with the geologic puzzles we are presented with is pretty cool. He is an easy person to work with: if he can do something to help out, he will. If he is unfamiliar with a task, he is always willing to learn and try. Based on his experience, one of his best skills is construction monitoring. He has learned how to handle different situations and personalities. His goal is to keep the job moving in the right direction without getting in the way. On occasion, he enjoys AEG meetings, especially when the topic is germane to our work at Landau.
Fun Fact:
Dave has taken up gardening in the last few years and find producing some of his own food to be rewarding.
Darlene Ruth
Operations Manager
Darlene supports the Corporate Team with management of day-to-day and long-term operational needs. Her role also supports corporate quality and training objectives, resource administration, and aiding in the continued and ongoing collaboration between the Technical Services Groups, shared services staff, and accounting teams. Darlene has been with Landau Associates for over 14 years in administrative, operational, and accounting roles. She enjoys being part of the team-oriented company, helping others learn, and being involved in helping the company achieve goals. Darlene's strengths are her strong organizational skills, problem solving ability, and easy-going approach to work and professional relationships. Darlene is also skilled in project and accounting information systems.
Fun Fact:
Darlene enjoys mountain hiking and hosting and planning events.
Katherine Ryf, CWRE
Agriculture Services Leader
Katherine is involved in and has knowledge of rural communities, integrated water supply solutions and project administration for a variety of industries. She specializes in providing innovative, long-term, and well-researched cost-effective solutions to the most difficult situations. For several years, Katherine partnered with Landau Associates, referring a trusted network of clients for multidisciplinary project support. In 2018, she joined the Water Resources team working remotely from Quincy, Washington to deliver turn-key execution and value delivery assistance. Katherine is honest, competent, and a leader in her field, building relationships with both local and international companies. Katherine offers practical result-driven solutions, custom-made from a number of options, sleuthed from active collaboration to best suit project needs and market demands. Katherine is inspired to update the image of agriculture and rural America through forward-looking support and advocacy. Katherine served sixteen years with the State of Washington Department of Ecology Water Resources Program and Department of Fish and Wildlife Real Estate Section. Katherine currently serves as vice-president board of directors American Water Resources Association Washington Chapter and vice-president board of directors Grant County Economic Development Council. She is a former member of the Board of Directors for the Friends of Turnbull National Wildlife Refuge. Born and raised on a dry land wheat farm, Katherine received her secondary education living in a rural community and obtained her Bachelor of Science degree from Eastern Washington University.
Fun Fact:
Katherine enjoys spontaneous adventures, family/friend shenanigans, and sharing laughter with those around her.
Katie Saltanovitz, PE
Director, Permitting & Engineering Design
Katie is the Technical Services Director for Landau's Permitting and Engineering Design Group. She supports the staff in her group to build relationships with coworkers and clients, grow their engineering skills, deliver profitable projects, and think strategically about what Landau could be doing in the future. Katie likes to solve problems by reaching out to a range of different people to get the benefit of everyone's experience. She enjoys distilling a wide variety of information into a meaningful summary that helps point the way through a regulatory or technical challenge. She also has been a board member of the Washington Evergreen Chapter of SWANA since 2013, serving as president from 2020-2022.
Fun Fact:
Katie has played the violin since she was very little, and is always up for an amateur jam session: classical, Irish, Klezmer, folk, you name it.
Kristi Schultz
Environmental Data Specialist
Kristi is dedicated to helping project teams throughout the data collection and review process, from coordinating laboratory bids, writing QAPPs, and tracking samples, to final reporting and data quality evaluation. Kristi has developed an extensive data management skill set over her 15+ years at Landau, and helps ensure our clients' analytical data is reliable and defensible, coordinating with laboratories to further evaluate results when necessary; the majority of Landau analytical data crosses Kristi's desk at some point. She is a detail-oriented multi-tasker and (project and data management) team player. She will ask lots of questions and hopes you do the same! Kristi takes the lead on in-house laboratory data verification and validation and Ecology EIM data submittals and manages data in EQuIS for multiple projects both large and small.
Fun Fact:
Kristi is a true Lego fan and feels a zen quality in sorting and organizing the tiny pieces. She also designs her own creations.
Lev Shulga
Accounting Specialist
Lev handles Landau's Accounts Payable process from vendor set-up to payment, as well as vendor inquiries, and various other accounting and timekeeping duties. He enjoys Landau's flexible and congenial environment which encourages a feeling of ownership and identification with your work. Throughout his time at Landau, Lev has excelled at being responsive and respectful while tackling accounting issues with folks from both accounting and operations. Lev specializes in Accounts Payable, but also has a diverse set of exclusive responsibilities including billing unit setup, billing unit reporting, expense tracking, and time sheet tracking.
Fun Fact:
Lev has never seen the film Titanic (1997).
Chris Sommer, EIT
Environmental Engineer-in-Training
As an engineer-in-training and a team member of Landau's Permitting & Engineering Design practice, Chris primarily assists with industrial stormwater and wastewater project tasks as they relate to compliance and treatment design. Chris finds satisfaction in assisting clients through the various technical and regulatory challenges they experience and enjoys doing so at Landau, where interpersonal relationships and deliverable quality are valued over the bottom line. Chris completes tasks in a timely and thorough manner and does so with a good attitude and an appreciation for the services Landau is providing. With a background in chemical engineering, Chris is able to approach stormwater and wastewater treatment challenges with a deep understanding of the water chemistry that is occurring while also being able to scale that up to practical application in industrial settings. While engineering is Chris' main focus at Landau, he also enjoys working on due diligence and hazardous building materials projects which allow him some quality field time and technical writing opportunities.
Fun Fact:
Chris is an avid climber and skier who spends his weekends in the mountains of Washington, enjoying the places he is actively working to preserve through his career with Landau.
Mike Staton, LG, MBA
Senior Principal, Enviromental Remediation
Mike uses his technical experience, communications skills, and business acumen to build trusted relationships with clients and staff, and to manage larger scale environmental, litigation support, and transactional due diligence projects. He passionately strives to serve as a strategic business partner to his clients, and he enjoys collaborating with others to develop innovative and cost-effective approaches that are designed to meet each client's project objectives.
Fun Fact:
Mike loves to write songs and play the guitar and harmonica.
Aimi Tanada
Environmental Scientist
Aimi primarily works as a part of the air and noise team, assisting in air emission calculations, compliance assessments, and noise data analyses. After growing up in Texas and working in the regulatory side of the environmental field, she has recently made a big cross-country move to see what life's like in the Pacific Northwest. She is organized both numerically and visually, so is a great go-to for data analyses, presentations, and information gathering. If there is a good excuse to use some scripting to automate tasks or organize information, then you will find her doing exactly that. She has prior experience and training in upstream oil & natural gas production, especially relating to air monitoring in the field.
Fun Fact:
Aimi enjoys all things arts & crafts—from fabrics, yarns, beads, paints, papers, and lumber, to random foraged items during her walks—she will find a use to make something interesting from them.
Adam Torocsik
Environmental Scientist
Jeff Valluzzi
CAD Technician
As part of Landau's Graphics team, Jeff uses AutoCAD, ArcGIS, and a plethora of other tools to design and create maps, drawings, and diagrams for use as both client deliverables and internal resources. Jeff has loved mapmaking since he was a child and is thrilled to have found a place where he can combine his creativity with his technical knowledge of civil and environmental engineering, all while helping to improve the local environment. Jeff is easy-going, adaptive, and not afraid to ask questions. Jeff genuinely enjoys creating geologic cross sections and is proficient at crafting complex plan sets.
Fun Fact:
Jeff loves to play music and write. His dream is to one day form the premier geo-rock supergroup, "Band-au Associates."
Meghan Veilleux, PE
Civil Engineer
Meghan is a civil engineer specializing in facility sizing, permitting (environmental compliance and redevelopment), engineering design and hydrological modeling, mostly for industrial facilities. Meghan enjoys the diverse projects and staff at Landau that make cohesive collaboration and innovation possible for high-quality client deliverables. Meghan is very detail-oriented in her communication to establish clear deliverables, deadlines, and general expectations for both collaborating project team members and clients. Meghan has several years of experience with hydrologic modeling software (WWHM) for use in stormwater conveyance and treatment design projects, preparation of engineering design drawings, specifications and municipality permitting packages.
Fun Fact:
Meghan enjoys cooking and crocheting in her free time.
Cynthia Wagener
Accounting Specialist
Cynthia has over 13 years of accounting experience in Environmental Consulting. She enjoys collaborating with her accounting coworkers, project managers and clients to ensure and maintain accuracy and compliance. Cynthia takes pride in delivering the best product to our clients, which is in line with Landau philosophy. Cynthia is organized and easy to work with. She is very approachable and always willing to learn new tasks and take on additional responsibilities.
Fun Fact:
Cynthia moved to Albuquerque 6 years ago and enjoys spending time outdoors in the 310 days of sunshine offered there!
Will Wagner
Environmental Scientist
Will uses his mechanical engineering background to assess noise, vibration, and air quality, assisting on projects both in the office and out in the field. Will loves the wide variety of projects he gets to work on at Landau. Whether it's listening to audio files after noise measurements or wading through compost to inspect biofilters, he is always eager to say yes and learn something new. Will brings a calming presence to the work he is involved in, listening and absorbing before unabashedly asking questions about everything and anything. Will excels at approaching problems from multiple perspectives, an asset that comes in handy when approaching air and noise modeling scenarios. He is building his skillset as a programmer, writing scripts to help with air and noise modeling tasks and getting involved with data dashboards.
Fun Fact:
Will has two different colored eyes.
Erin Waibel, RG
Environmental Geologist
Erin is a senior level environmental geologist who loves to work on challenges big and small that are important to our clients and communities. In school, Erin's favorite subject matter was related to anthropogenic effects on the environment. In her professional career, she enjoys tackling client challenges where human interaction and geology collide. Erin enjoys mentoring young professionals by taking extra time to explain the "why" to assist in other's growth. With over a decade of experience, Erin primarily works on active and former industrial properties with chlorinated solvent groundwater contamination where in situ bioremediation is a component of the remedy.
Fun Fact:
Erin loves to play (and watch) soccer. In 2017, Erin traveled to New Zealand with her women's soccer team where they finished second in the World Masters Games. Erin continues to play soccer on an outdoor women's team and a coed indoor team.
Ashleigh Walker
VP, Finance
Ashleigh uses her 22 years of finance experience to focus on the information that best informs operational decisions for Landau. Working side by side with operations, Ashleigh's key driver is to get timely and accurate information into the hands of operations. Ashleigh likes collaborating closely with project managers as well as the rest of the accounting team to push the group to the next best practice. There is no room for "this is how we have always done it." She can usually be found with multiple spreadsheets open and enjoys working in and building out reports to help look at the business in a new way.
Fun Fact:
If Ashleigh isn't spending time with her husband and children, she can be found quietly knitting.
Carson Wall, EIT
Geotechnical Engineer-in-Training
Carson applies his geotechnical knowledge in overseeing both exploratory studies and active construction activities, analyzing collected data with modeling software, and organizing all of the information produced into comprehensive reports. What started as a passion for building with Lincoln Logs and LEGO's has evolved into a devotion to constructing safe and lasting infrastructure for the greater Seattle area, in which he was born and raised. Carson contributes to thriving teams with his friendliness and optimism. He also takes pride in his organization system for both his general and project-specific notes and tasks. With years of in-field management experience, Carson delivers quality control and in-depth recorded observations for all of his projects.
Fun Fact:
Carson lives by the motto: "Any uncomfortable situation is an opportunity for growth!"
Kristen Wallace
Principal, Air & Noise
Kristen has 30 years of experience conducting and guiding a wide range of environmental noise services (e.g., impact and mitigation assessment, compliance measurement, source sound level characterization) for a vast array of local and national clients. Kristen loves to balance her technical skills in noise measurement and modeling with organized and understandable documentation. Kristen makes it a priority to be responsive to clients and enjoys working with clients to clarify and provide noise services tailored to their specific situations/needs. She is adept at identifying and interpreting ambiguous and/or complex noise regulations found across a wide range jurisdictions, agencies, and governments, and at characterizing the potential for noise impacts, regardless of regulatory standards. Kristen is a member of the Institute of Noise Control Engineering (INCE), a recognized WSDOT Lead Noise Analyst, and has served as a recognized noise expert at State, County, and municipal-level hearings.
Fun Fact:
Kristen loves to grow edible plants, especially new and unusual culinary herbs to use in various dishes (and tomatoes, always tomatoes).
Mina Walters
Environmental Scientist
Mina works rain or shine to diligently carry out a wide variety of field work, from groundwater sampling to conducting aquifer pumping tests. Mina enjoys working on a wide range of projects from environmental remediation to water resources, by doing so she aspires to help insure water availability for the water-users of tomorrow. Mina is organized and creative, helping her to be flexible and adapt to situations with ease. As a budding hydrogeologist, Mina is also cultivating a mastery of permitting and due diligence of water rights, aquifer testing, and providing hydrogeological reviews.
Fun Fact:
Mina was previously a tour guide for one of the few caves in North America that is navigable by boat.
Kevin Warner
Principal, Air & Noise
Kevin is a senior member of Landau's Air & Noise team and focuses his efforts on environmental noise, vibration, and most recently hydroacoustics. He has been consulting in this capacity for 25 years and in that time has completed projects for a range of industries and client types, and in a range of locations and environments. Kevin has developed a passion for environmental noise, vibration, and hydroacoustic. Each project presents unique challenges that often result in rewarding outcomes for our clients. Whether its finding and resolving the source of an industrial noise issue that is driving complaints, designing and installing long-term monitoring systems, or ensuring that a new development will not result in impacts to nearby homes, each and every project is met with the same degree of attention to detail to ensure that our client's needs are fully met. Kevin enjoys meeting new clients and learning about industries and processes that may require noise or vibration consulting services. Landau provides Kevin with the resources, staffing, and support to continue to grow the noise and vibration services offered at Landau. Whenever possible, Kevin would prefer to pick up the phone (or video chat!) before emailing with a client. He enjoys personal connections which can often lead to learning about elements of a client's challenges that may not have been conveyed through written communications. Kevin enjoys learning about Landau's service offerings outside of noise and vibration which often leads to new opportunities and the ability to understand the full suite of what Landau's can offer when in discussions with new and potential clients. He enjoys understanding client's needs and will ensure that all aspects of our work are completed to the highest standards of quality and professionalism. Kevin is experienced in long- and short-term monitoring, impact analysis and compliance assessments, mitigation assessment, and serving as an expert witness at hearings and municipal proceedings. He is also a member of the Institute of Noise Control Engineering and a Qualified Lead Analyst for Preparation of Noise Studies for the Washington Department of Transportation.
Fun Fact:
Kevin's passion for all things sound extends to his personal life. He has played in many local Seattle-area bands since the late 90s, including recording nearly a dozen albums and touring both North America and Europe. At home he loves to capture underwater sounds with his kids or sneak in audio recordings of them playing only to play back for them years later (much to their chagrin, but ultimately to their amusement and appreciation).
Eric Weber, LHg, CWRE
Director, Water Resources
Eric is a director of Landau's Water Resources technical services group. His over 30 years of experience includes a diverse range of projects and problem-solving challenges. Much of his current work focuses on water rights, water supply development, and water resource planning. Eric also has strong technical expertise in hydrogeology, groundwater flow and water quality modeling, environmental site characterization, contaminant transport, seepage and dewatering, and environmental permitting and compliance. His passion for work stems from the camaraderie of working with a goal-oriented team, the opportunity to demonstrate excellence, and being part of projects that build community and economic infrastructure in an environmentally sustainable way.
Fun Fact:
Eric's interest in rivers and river running began in middle school and eventually led him to a water-related career. He still spends time floating downstream.
Scott Woerman, MBA
VP, Client Strategy & Risk Management
Scott has over 25 years of experience in the environmental industry, with more than 15 years at Landau Associates. He works closely with the firm's Operational Leadership Team to help execute corporate strategy and manage the firm's risk; he also works with clients to understand their needs and matches them with the appropriate resources to help achieve their strategic project objectives while helping to manage their risk. Before joining the company, Landau Associates had been a client of Scott's for more than 7 years. In that unique position, he got to see how Landau employees worked with each other and treated their business partners. The pride of personal ownership that comes with being part of a 100% employee-owned firm was an opportunity he couldn't pass up. Scott would say he is curious while listening and is comfortable with uncertainty. Scott is skilled at exploring opportunities to understand their upside potential versus downside risk. He is enthusiastic about organizational governance and serves on the Boards of Directors of Landau Associates, the Washington Chapter of the American Council of Engineering Companies (ACEC), Architects and Engineers Legislative Council (AELC), the Northwest Environmental Business Council (NEBC) and the Board of Trustees for the Economic Alliance of Snohomish County (EASC).
Fun Fact:
His two dogs collectively weigh less than 8.0 pounds.
Steve Wright, PE
Principal, Geotechnical Engineer
Steve is a Principal Geotechnical Engineer who has dedicated his career to providing geotechnical services for public work projects. Steve gravitated towards geotechnical engineering based on his lifelong fascination with geology and construction. Since 1999, Steve has called Landau Associates "home." He values the aptitude of his co-workers, as well as the large variety of topnotch clients and projects the firm serves. Landau's commitment to quality also lends to Steve's longevity at the firm. Words used to describe Steve include patient, even keeled, reliable, trustworthy, thoughtful, dedicated, committed to quality, and detailed oriented. Steve uses humor to defuse stressful situations and is not afraid to tell you a bad dad joke even if you don't want to hear it. Steve enjoys establishing and maintaining long-standing working relationships with co-workers and clients and has been working with many of the same clients for 25 years. Steve excels at developing geotechnical engineering recommendations to support the design and construction of buildings, bridges, airports, roadways, transit facilities, retaining structures, slope stabilization measures, waterfront structures, and underground utilities and related infrastructure. Steve particularly likes working on projects that involve the design of trenchless utility installations, temporary shoring systems, and dewatering systems. Steve is a long-time member of both the American Society of Civil Engineers the Washington Chapter of the American Public Works Association.
Fun Fact:
Steve is currently in the process of perfecting the art of making pizza at home; he's not quite there yet, but his pizzas are giving some of the better local pizza places a run for their money.
Jay Wu
Executive/HR Assistant
Jay's title does not reflect the work that he does at the firm; he's essentially a Swiss army knife and does a little bit of everything. Jay does what he does because he loves variety. His role at Landau allows him to dip his hands into many aspects of the firm, whether it's IT, Marketing, or HR. Jay really appreciates that Landau isn't a firm that confines you into a box and that you're encouraged to pursue other areas that might interest you within the firm. Jay thinks of himself as someone that's very easy to communicate with, whether it's through text, email, etc. – You can reach him at all hours of the day, even beyond business hours if something urgent comes up. His unique role at Landau requires him to be very collaborative. One example is utilizing his knowledge of HR to make an IT or Marketing process more effective. Although he wouldn't call himself an expert on these things, he would say that he's gotten pretty good at onboarding, interviewing, and scheduling. Jay is also resourceful enough to at least be pretty decent with PowerPoint and Excel.
Fun Fact:
He loves to exercise!!! Whether it's lifting weights in the gym, playing basketball, or running – he just loves being active.
Jennifer Wynkoop
Principal, Environmental Remediation & Permitting
Jennifer is a Principal Environmental Scientist providing leadership and project management in the areas of Remediation, Environmental Due Diligence, and Natural Resource Permitting and Design. Jennifer assists clients in navigating complex regulatory, site development, remediation, and restoration issues. She takes the time to listen to clients, understand their risk profile and help them navigate potential environmental and regulatory risks. In Jennifer, clients can expect a partner who listens and understands their project needs in the context of their business and their constraints. Jennifer collaborates with clients to craft solutions unique to their specific project and business needs. With nearly 22 years of experience, Jennifer brings a wide range of expertise including remedial investigation and cleanup of soil; groundwater; air; and sediment, environmental due diligence (Phase I and Phase II ESA), vapor intrusion, Regulatory compliance under the Model Toxics Control Act (MTCA), Clean Water Act compliance, wetland delineation and permitting, wetland mitigation and restoration, shrub-steppe habitat assessment and mitigation. Jennifer is a member of the Stakeholder and Tribal Advisory Group for MTCA rule updates and holds a Certificate in Wetland Science and Management.
Fun Fact:
Jennifer loves to spend time in the outdoors and pass on her love of nature to the next generation as a Girl Scout troop leader.
Christopher Young
Project Coordinator
In his tenure at Landau Associates, Chris has helped the project coordinator role evolve from strictly administrative tasks to reviewing reports with more of an emphasis on technical editing. Chris joined Landau Associates 20+ years ago and has grown into his role of ensuring the quality of deliverables. He is a stickler for clear, accurate, and concise writing; whenever there's a writing conundrum, Chris' opinion is sought. He is easy to work with, has a good sense of humor, and finds the fun in improving the quality of Landau documents. Chris loves to edit technical reports with the twin goals of verifying their accuracy and making them more accessible and understandable to clients and/or non-scientists. In addition, he has taken the lead on authoring the company's style guide along with related tasks.
Fun Fact:
As his alter ego, Dr. Dictionary, Chris likes to delve into the intricacies of English usage, style, and grammar, and enjoys discussing the nuances of clear writing with all comers — Landau employees and ex-employees, English professors, linguists, and the occasional comedian.
Eric Zick
Manager, CAD & GIS
Eric supports all practice areas here at Landau with his wide-ranging skills in CAD, GIS, and other graphics related softwares. Eric has over 17 years of experience in mapping and design and thrives on solving the many unique and complex tasks required to support our clients. Eric has been recognized multiple times for his strong work ethic and ability to communicate clearly and effectively with internal and external clients. He takes ownership of his work and enjoys helping others learn and grow. One of Eric's strongest attributes as a CAD/GIS technician is his ability to apply a variety of software options to a single task, and to communicate effectively with project teams. Eric is a member of AUGI (Autodesk Users Group International), and is an Autodesk Civil3D Certified Professional.
Fun Fact:
Eric enjoys backpacking. He's hiked remote places like Gates of the Arctic in Alaska, and Wind River in Wyoming. When visiting Romania once, Eric decided immediately that in a former life he must have been a sheep herder, like the one he witnessed there roaming in a high alpine meadow.